It started out good with me making the best french toast ever. Then Jared and I headed on over to the
Hickory Hops Festival
. Every year, a bunch of us volunteer to work a four hour shift at the festival in exchange for free beer! All day! Usually it's pretty laid back and I am able to still get my drink on while I'm working. Not this year! It was so busy I couldn't sit down! And, some mean old lady made me cry a little (what is it with mean old people making me cry?). Anywho, once I was done, I got my little drink on with my Jared: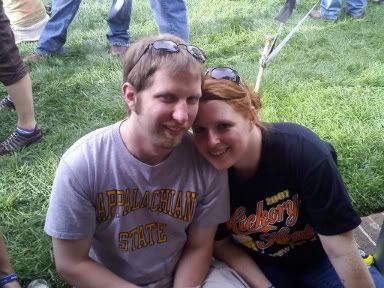 Katie, Daniel, and several other friends were there too and we drank the most delicious beer ever (which also happens to be a pirate beer) called "Holy Sheet" by
Heavy Seas Brewing
Company.
The guy in my picture is the same guy as in the picture on the web page.
Around 6:00 Jared and I decided to go home and nap for a bit. We're old, ya know. Then at 9, I went to karaoke! I wasn't going to go, due to the fact that I was TIRED. But I figured what the hell. It was fun, and thanks to my brilliant Harry Belafonte impression, Beef O' Brady's in Hickory had it's first ever Congo Line. Check out the pics at
HKYnights.com
.