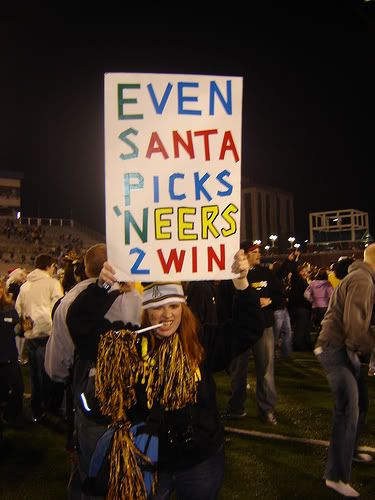 So as you probably already know, Appalachian won their 2nd consecutive national championship game Friday night, beating UMASS 28-17. I think that might have been the most fun day I've had, ever.
highlights:
-took a LOT of pictures.
-got to eat at the yum-diddily-umptious Mellow Mushroom in Chatanooga (that makes 6 different MMs)
-had my picture taken with my sign by at least 20 random people I don't know, and a few I did know, including
Blue Ridge Blog's
Marie
, who I finally got to meet! She even
blogged about meeting me
(under 2nd picture). I'm still amazed I picked her out of the GINORMOUS crowd after never having actually seen her face.
-I got to meet and get an autograph from
Richie Williams
! I have a picture, which I will be posting later. What a nice guy.
-I got a cool face tattoo (fake of course) of Yosef, given by
Ray the Weather Guy
's wife. When I told her I had had him as a lab instructor at ASU she laughed and told me she was sorry. I wish it had been him telling me he was sorry. That class made me cry on more than one occasion. (C++ is a pain in the A++)
-I ran into so many people I know! Including my boss and his family, and a lot of people from the Hickory area! I was there with
Katie
, Daniel, Stephen (who I bugged into riding with me!) Alisa, Matt, Chad, Jeff, and Tracy.
-Our seats were pretty bad but it was okay because back row = nobody behind you getting mad because you stand on your seat the whole game.
-I yelled so much I lost my voice by halftime. I'm still hoarse today (3 days later).
-Skydivers brought in the game ball!
-There were fireworks (I LOVE FIREWORKS!!!) before and after the game.
-I have a crazy weird video of different points before, during, and after the game.
-The ASU Marching Mountaineers Rock.
-Armanti Edwards and Kevin Richardson and the rest of the football team rock.
-Yosef Rocks (especially when I went to give him a hug and he picked me up and twirled me around!)
-My friends rock.
Let's just sum up by saying I had a really great time! Pictures to come soon!
Also soon to come: This great day was followed by the next day, which was one of the Worst Days Ever. Look for the sordid details soon to come. :(