Yes, I watch American Idol. Every year I say I'm not going to but every year I do anyways. And I don't even care. Other people watch Survivor, which is pure crap to me, so I'm going to watch American Idol, which is pure crap to other people. I've also got Jared watching it, only don't tell him you know that :).
I wasn't sure who to pull for going into the top 24. I try to always pull for one favorite boy and one favorite girl. For favorite girl right now I'm pulling for Jordan Borgella, the plus size model, because she's cool. Of course after the girls perform tonight I'll make an informed decision. As far as boys go, I was going to pull for David Archuletta.
David Archuletta is a 17 year old kid with an amazing talent. He's basically everyone's favorite, so he doesn't really need my vote. Although, I wouldn't be opposed to adopting him.
Then there's this Australian hottie guy who has a lot of the other votes. Nuff said.
Then there's this guy: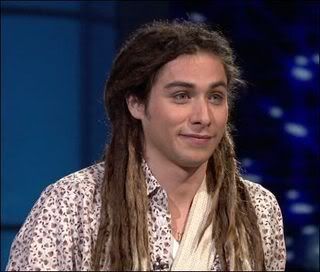 Jason Castro.
Before last night's boy's performances, I'd never actually heard him sing. Last night I saw this guy perform "Daydream" with a guitar and it totally rocked to me. I'd buy his album. Plus, he's kind of cute, even though I don't really like dreads.
The point is, I'm pulling for this kid (he's 20 years old) and last night I voted for him like 100 times. Really.
Go Jason! To see a video clip of his performance or to listen to the mp3, go
here
.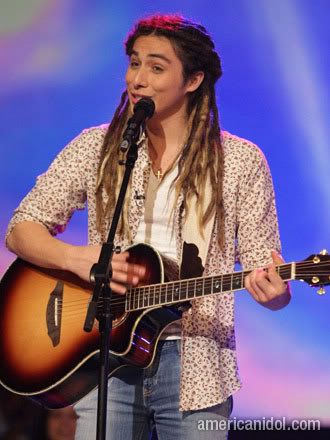 p.s.
DialIdol says he's safe
! Good thing I voted 100 times.
Oh, and yes, I think he looks high too.