I have a library book due today, but I've only read 8 chapters. I hope the Hickory Public Library doesn't overcharge on their late fees, because I'm going to finish it.
This weekend is the last regular season foosball game for my Apps, and I'm being non-conformal and driving up the morning of and coming home after the game. Mostly because I'm poor but also because Jared and I have a date planned for Saturday night. This is also good because it means I won't allow myself to get stupid drunk and the people in front of us in the stadium won't have to think, again, 'who is that stupid drunk redhead?'. Look at that, I just used three punctuation marks in a row.
Last weekend was superborama because I got to do several cool things, including meeting Katiebonk's sister, who is way cool, and her cute family. I hung out with Andrea all day Saturday, which always makes me happy! We went to a chili festival and ate a whole lotta chili, including some strange concoctions like chocolatey chili (not so good).
After the chili-fest we went to IKEA which is wicked awesome. That's the biggest store I've ever been in I do believe. I bought nothing but candles, but could have left with a houseful.
Katie and Daniel met us in downtown Atlanta soon afterwards and had a blast with Andrea, Chad, and Newman (that Mike guy) at the bars. I think really this was great but I absolutely loved riding the MARTA (the Atlanta train) for some reason.
I am tired but alas, it was worth it for this: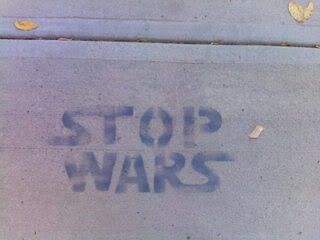 (Seen on the sidewalk in Atlanta, Cabbagetown)
and this: