Some great things have been happening with me lately.
Thursday night, Carmen, Matt, and I went to see the Holy Ghost Tent Revival at Drip's Coffee House in Hickory. Let's just say, it kicked ass. They were a lot of fun and really put on a great show. It was definitely the most packed I've ever seen Drip's. They were very Avett Brothers, but different, in a good way. They were there own band, and they were great.
Here they are: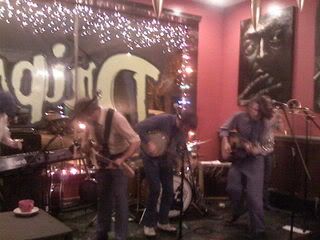 So, how did I hear of them? From a new friend. A man. Who lives in Fayetteville. He's pretty nice... :D
Also, I've been going to the gym more lately. Having all this time with nothing to do and no money to spend has really been liberating in the sense that I can do things that I should have been doing all along. Not that I couldn't have been doing that before, but it's just easier now.
I haven't even cried in at least 4 days! Unless you count that episode of Bones I watched where Booth saved Bones and it was sweet.. but .. um..
Woo!