i love that movie, and i love that it comes on 24 hours STRAIGHT on TBS on Christmas. what the hell else would i be watching at Christmas?
it was a pretty good christmas break.. nothing too eventful happened. but i'll tell you all about it anyways. it began on thursday around 12.30 with the official office christmas party. we played dirty santa, where everyone brings in a ten dollar gift to exchange. daniel ended up with a 12 pack of coors light. by the end of the party it was a 5 pack! i, after fighting over it with my boss's
wife
, ended up with a $10 gift certificate to priscilla's. now, for those of you who don't know, priscilla's is a "
lingerie
" store :).
anywho! then a bunch of us went to tripp's where we had mas fun and beer!!!
then, after much consumption of beer, we headed to el paso, because the day wouldn't be complete without dos equis and the burrito el paso. me and katie were feeling really good by then: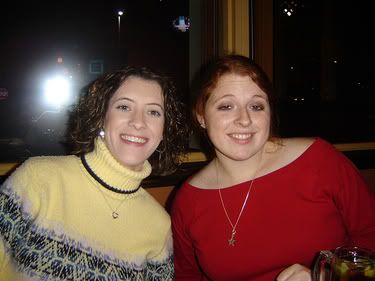 in the words of katie, i was "sotally tober"
hehehe. then, to top everything off, i went home and to sleep. i was out by 11 pm. sad, i know.
i worked the next night at the brush! boo! i was there til friggin midnight, but in the end went out with brian the dj/cook to this bar in downtown hickory where i got to see female mud wrestling, sang karaoke, and drank 5 malibu and cokes and 2 jager bombs, ate a ham & cheese sandwich, and danced with a girl! good times. finally got home around 4 am, where i went straight to sleep, by myself! *sigh*
then made up a rum cake in the morning (my speciality) and went BACk to the brush. but hey, at least working at sagebrush on christmas eve, we had a little fun:
it says: "I will work for SEX". poor asshole adrian. he walked around with it on his back for a LONG time. everyone got a kick out of it. when the kitchen manager finally pulled it off and put it in his hand, he simply looked at it, shrugged, and put it back on his back.
then after work i headed straight home for presents!! then to alan's country music show at the irish cue in mooresville! it was really good! i don't have any live pics of alan performing, cause i was too lazy to get my camera out until after he was done, but here:
the show was good, but i was a little disappointed. i thought dr. boone was going to be there and that he would see my booby shirt and come over and beg me to talk to him! but he wasn't there, so the booby shirt was for naught. ah well.
christmas day was boring.. i watched a christmas story a few times, and then went to b's house and had fun with his family.. i got an awesome tampa bay buccaneers snowglobe with raymond james stadium inside. then b had to go home, so i went over to alan's house and we went to see king kong. good movie, but utterly too long. i liked it, but i'll never watch it again. didn't get home til 2 am! but since it was still christmas in california, i gave my ex beau a call! turns out now he's on myspace, and he needs a few friends!
Add him
!
and what ex beau adventure would be complete without him making me feel AWFUL for not going to see him this year. *sigh* i think the boy has delusions that we could EVER be together permanently.. don't get me wrong,i love him, but we don't work together.
anywho then monday i got up and went to pick up madelyn and elora (my nieces) from my oldest brother, scott, and took them over to alan's to drop off elora. we hung out for a while, i napped on elora's bed while they played. it was sweet. then i took madelyn home, when my mom finally got home from virginia. that's when i went to dinner! with adam! another ex beau! we went to los arcos, where, of course, alan was there with elora. can't escape family. but me and adam had a good long conversation anyways. we sat there and talked for 2 hours. i finally got up the nerve to ask him about the nickname (if you don't know it by now, there's probably a reason!). well he admitted to calling me that. he said he didn't originate it, but he didn't discourage it. which means one of his friends came up with it, which means he told all of his friends what we were doing in private. good thing this was 5 years ago or else i might get mad. grr. by the way he's on myspace now too, he hasn't added me as his friend yet though! but you can look
here
to see it.
but then it was time to go.. after a much heartfelt hug, i headed home. it was good. cleansing.
yesterday consisted of me hanging with my ma all day, buying lotto tickets and eating food, riding in a car and napping, and then FINALLY back to hickory at 8.30 pm, where i went straight to carmen's. we played spades. me and satterfield beat carmen and brian the dj/cook after a very tense, very close last hand. it was awesome.
so that was my big christmas break. .like i said, nothing too exciting, but it was still nice. and i have another 3 day weekend this weekend! i love new years.. i hope i get some booty :) but who knows where the wind will take me.