well all in all i'd say i had a pretty damn good weekend.
friday night me and the soon-to-be-ex roomie took down some mo' wallpaper. we got one and a half walls down from my bedroom.. but i've got a LONG way to go. good thing i have a three day weekend this weekend!!
then at about 12 B showed up from durham! and since he finally broke up with his skank ho of girlfriend who was cheating on him, we decided it would be a good idea to drink a LOT of rum: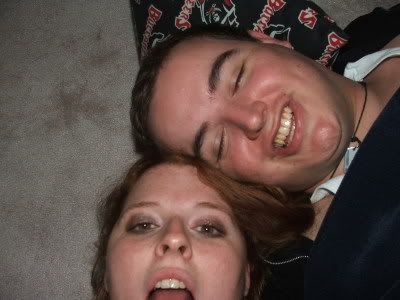 only thing is.. i had a little too much. hey, what better way to break in my new condo then by throwing up there? at least i made it outside. and i don't mean to be gross, but coconut rum doesn't taste all that bad the second time around.
then saturday we headed to asheville to see b's friend, ms baranski. she was showing her senior project for UNCA, which was a photography showing in the library. it was really cool. i'd never been to asheville before. very cute town. it's like a BIG boone. with more hippies. i still like boone better though.
and then it was 5 oclock and we didn't have anything to do the rest of the night..
well.. we're in asheville.. we've got all night.. b's got a lot of money to blow from his tax refund... .hey!! let's go to cherokee and go gambling!!
yea!!
so we ended up in cherokee. i only spent $16.00 since i took out 60 bucks but won back $44. i'm timid when it comes to gambling. especially since it's all slot machines and video poker. B, however, is not shy. he spent $200. but he won back $100: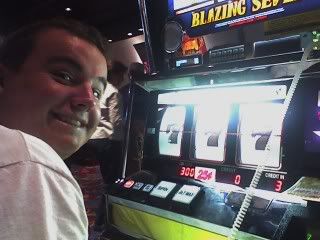 yep, that's triple sevens.
lucky bastard.
well anywho we got home to hickory around 2 am. b had to be up at 8 to drive to durham to be at work at 11. sucks for him. but we had a great time. i miss him.
then sunday, i did nothing.. oh.. except go on a "date" with louis aka rick moranis. yikes. i hate to be cynical, but i'm starting to doubt my skillz. maybe it's because he was from morganton.. hehe. but not every boy from morganton is a
dork
.
*sigh* glad that's over.
man, i'm ready to go back to sleep.
countdown to my bday: 20 days
countdown to POTC2: 88 days
countdown to esplosion: about 2 hours.